Worryingly, in my 64th year the NHS has started to take an unhealthy interest in my health. For example, on my birthday in March they sent me a bowel cancer screening pack, though to be frank if they were going to give me a gift I'd have preferred a pair of socks or something else vaguely useful. And then, a couple of months later, they packed me off to our local clinic for a blood test in preparation for a full health check down at the surgery.
Now don't get me wrong, I've got no problem in principle with preventive medicine, and of course as you get on in years the need for it is greater than ever as your body slowly falls apart.
My body is a case in point: I don't think there's been a day in the last ten years when part of it hasn't hurt, and there have been plenty of times when pretty much all of it has been giving me grief. But hey, pain is just nature's way of telling you you're not dead yet, and so is definitely to be welcomed as the lesser of two evils.
I'm in the waiting room at the surgery, playing the game we all play, checking out the other people sitting there and speculating on the nature of their afflictions. Most of them look younger and healthier than me, which only serves to increase my sense of unease.
At last my name is called. The practice nurse must be less than half my age, and is friendly in a brisk and efficient kind of way. She ushers me into a consulting room, then starts taking measurements and asking questions. Nursie feeds all the data into her computer, alongside the results of my blood test, hits the enter key and sits back to await the official NHS verdict on my prospects.
I watch Nursie's face carefully, hoping for some reassurance that I'm not about to drop dead before finding out who's won this year's Strictly Come Dancing. But she is expressionless, inscrutable, and panic sets in. It's bad news, isn't it? I think to myself. My blood pressure is rising dangerously, which seems to defeat the object of my being here. Finally, after a pause long enough to plan my funeral, she speaks.
"Well, Mr P" she says calmly, "I'm pleased to tell you that you're classified as low risk."
Relief surges through me, but Nursie's still looking serious, thwarted even. She returns to her computer screen, studying my results thoughtfully.
"But, of course, your cholesterol is a bit high. You really should do something about that."
Nursie smiles at last. She's on firmer ground now: the person sitting in front of her needs sorting out, and she's just the person to do it. We talk about my diet and agree that I need to make some adjustments.
Then she asks about exercise and I admit that I don't do any, partly because I'm worried about aggravating my chronic lower back problem, but mainly because I'm an idle bugger. In a moment of madness I also confess that there's an exercise bike, abandoned and unloved, in our spare bedroom. Nursie's eye's light up.
"That's your answer," she says triumphantly, "get on your bike and ride." I respond by pointing out that I've not been near the exercise bike for years, and will need encouragement to take to the saddle again. I suggest she gives me a stern telling off, and she happily obliges.
By the end of the session I've agreed to cut down on cheese and butter, to get on the exercise bike five times a week and to read "How I've reduced my blood cholesterol," an 80 page booklet produced by the British Heart Foundation and handed out free of charge to sinners like me.
As I leave the consulting room I thank Nursie for her time, and promise to be a good boy in future. Then I scuttle off to drown my sorrows at the local coffee shop by drinking something unhealthy, with a monstrous slab of cake on the side.
A couple of months later, progress is slow. I've read the British Heart Foundation booklet, but if you tested me on it I'd get a D-minus at best. I've given up butter in favour of margarine. And I've logged 3.7 miles on my exercise bike. OK, I admit that's not great, but even Chris Hoy, Chris Froome and Mark Cavendish had to start somewhere, didn't they?
However, cutting down on cheese is a real struggle.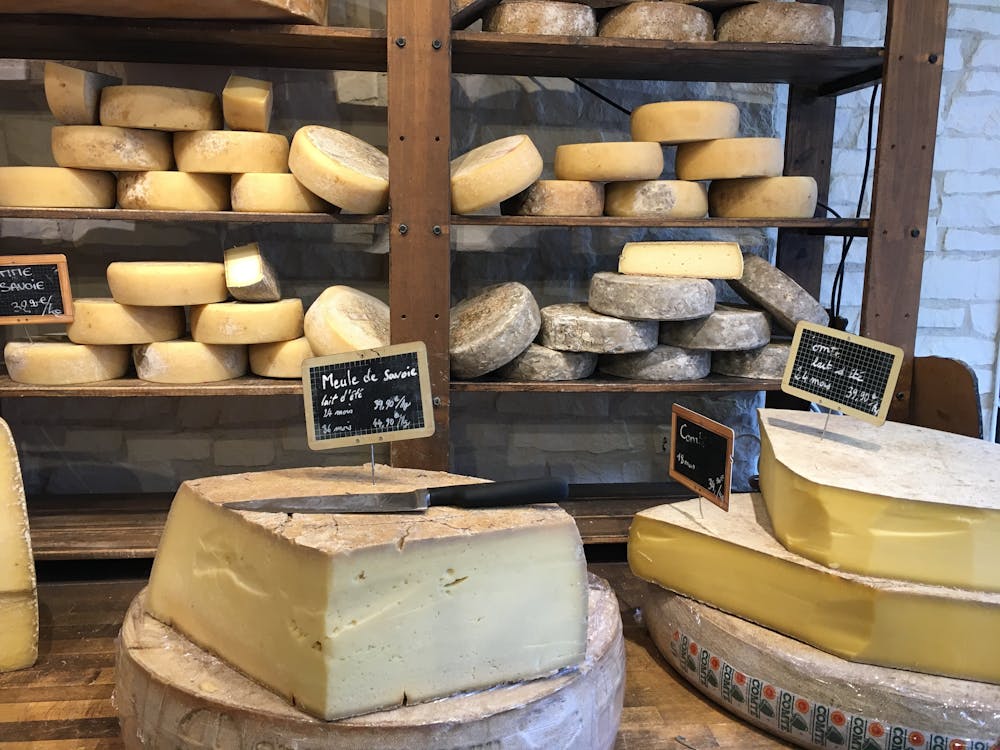 You can keep your nectar and your ambrosia, in my book cheese is the real food of the gods. In the end, maybe, Stilton will be the death of me. But if it is at least I'll die with a smile on my lips, and cracker crumbs on my chin.